Sometimes less options are better, as we've come to find out with gathering.
I gave every player the option to gather with any item they wanted. Which lead to confusion and unwanted cases where torches, shields and other valuable items were sacrificed unknowingly. Coming up in 2.0 we will see gathering get an overhaul.
1. "Gather" is now a specific item use. If you do not have a "gathering" item equipped, then you will use your hands. Things like torches and shields do not have gather capabilities.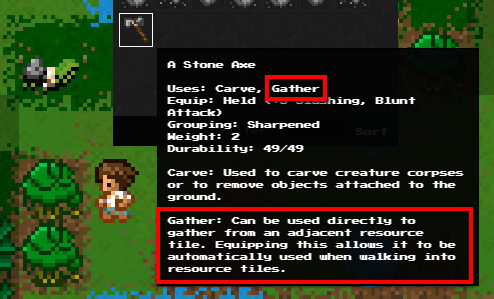 2. Gathering no longer randomly chooses a hand. If your right hand has a gathering item, it will use that. If not, it looks at your left hand next.
3. There is now a text-based and sound feedback when the tool you are using is effective or not for the certain type of gathering you are performing.
4. There is a new "gathered" message type visible in messages instead of simply "picked up" which was used before.

5. Adding an option to gather with a non-equipped item.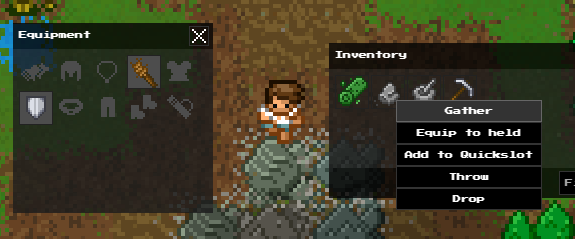 6. A bug was preventing higher tiered tools from benefiting gathering at all (besides durability). Now the attack value, mixed with the effectiveness from each tool will be used as extra chances at gathering. For example, using an Iron Pickaxe (+6 attack) for mining will give you the chance to get up to 8 items from a single gather. If you tried to use that same tool for lumberjacking, it would give 2 chances (it's not effective for lumberjacking). 2 chances is the base amount for gathering with any tool, which is why the Iron Pickaxe gives 8 (6+2) for mining.
Have any other ideas on how to improve gathering?