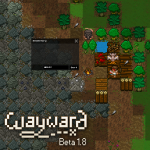 Woops, totally forgot a witty and clever release title this time. Either way, beta 1.8 is now out!
Beta 1.8 is mostly an amalgamation of 1.7.x changes. This is due to the recently implemented weekly release schedule – which this week just so happens to be a full release. So, if you are updating from 1.7 to 1.8, you can view the changelogs from 1.7.1-1.7.4 and 1.8 itself to see all the changes. Quite a bit there for just a little more than a month! In fact, it's the biggest amount of updates we've ever made in a new version. Progress!
Play Online:
Downloads:
Some of the best stuff includes:
Fixed a bug where Legendaries were not giving skill bonuses.
Tiles now also save durability between uses. This will make more sense moving forward when some monsters can perhaps break down walls?
Resource tiles are now physically spawned, rather than items simply spawning on top of them. This will give a large performance boost as well as reduce save file space by 40%+ on new saves. Unfortunately most of this will only apply to newer saves.
Resource tiles now appear visibly different on the minimap, and are visibly different even outside line of sight.
Tons of HUD/GUI design changes and bug fixes.
Lots of performance improvements (especially to the offline version).
A brand new creature! Along with some graphical improvements to all enemies.
Fixed a bug where Solar Stills and Stone Water Stills recipes would duplicate in crafting dialog.
english.js (translation file) now reveals when changes are made to the file to keep your translation up to date easier (Removed/Added/Edited with version information).
Tons of other fixes and improvements/balance changes. See the changelog for more details.
Trello
In other news, we've recently moved over to Trello for the Wayward Todo. This allows everybody to view what we are working on. Donators get to become "Members" which allows them to vote and comment on everything. Additionally, there's also a fully public board, which let's everybody submit ideas, suggestions and bugs here.