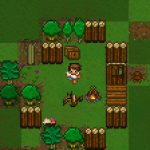 Wayward beta 1.3 has been released! And yes, your saves should be safe! This release was all about improvements and fixes, hence the title "It's The Little Things".
Play online in the usual place:
Some of the latest and greatest from the changelog:
Five new tracks from Austin "Mars-San" Dhillon.
Keyboard shortcuts have been added for all windows (Esc = Main Menu, I = Inventory, / = Help, C = Skills, M = Messages, O = Options).
Tile stacking has been implemented. There is now a simulated z-depth that allows the game to save what was under each tile.
Glue can now be used to reinforce items (provide maximum durability bonuses and repair a bit of damage).
Crafting tool-tips now show all item information and consumes/requirements are now condensed.
You can destroy or remove items from the game by dropping/sinking them into deep and/or normal water. Dropping edible items into the water may stir up some unwanted (or sometimes wanted) guests.
There is now a delay during your first movements to stop accidental wall/resource gathering. The more you move consecutively, the faster you go.
As always, you can check out the behemoth of a changelog here:
http://www.unlok.ca/wayward-free-changelog/
Although this release was more about tweaks and fixes, you can expect the next one to be all about new content and simulation.
Downloads
*UPDATE*
On June 21st, a fix was uploaded for the Mac stand-alone version. Previously it was not running at all. Please re-download the Mac copy to have it work once again.