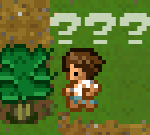 It's been acknowledged that Wayward has some complexity attached with it. Even in spite of it's simple (and unpolished) UI and relatively easy control scheme, some players have trouble starting out in Wayward. If Wayward was a relationship, I would say It's not you, it's me. There's lots to improve in that regard.
Most People Don't Read
It's okay, I'm not insulting you. I do this too; I don't want to read; I just want to play. Eventually, we may get there with Wayward, but not quite yet. Generally, people don't use the help/hint system and don't read the Wiki (or don't want to in case of spoilers).
Make a Video!
That's why I am asking the community to help develop a tutorial video. Something a player can watch for a view minutes passively and learn the basics of Wayward without spoiling anything. Maybe there's multiple videos, each showing a different portion of the early game?
If accepted, your video(s) will be watchable/playable in-game with all view counts, subscribers, and monetization going to you. It will also be promoted and placed in several other online places (such as the Greenlight page).
Everything is up to you. The pacing, the topics, the design, the length. The only thing I ask for is to be on topic, generally polished in terms of the visual and audio and ultimately, helpful for new players.