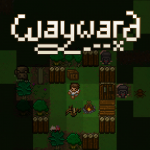 Wayward beta 1.4 is out right now! Very appropriately subtitled, "More Ways to Die"; this release features new stuff that will kill you, like poison and thirst! FUN! It's not all bad though, there's plenty of improvements and other new content as well.
Looks like we are sticking with the monthly release schedule so far, so as always, stay tuned for beta 1.5 and onward.
Play Online:
Delete your cache if beta 1.3 is still popping up for you.
Download:
Some of the bigger stuff from this release:
Monsters now have defense, resistances, and vulnerabilities based on weapon damage types.
Trapping skill and items have been implemented.
You can now sort and filter crafts. You can filter by name, group and skill currently. You can sort by name and skill.
Poisoning has been added (from eating bad stuff/monster attacks).
Many new items added, including everything needed to distill water and cure poisoning.
Thirst has been added with more ways to create drinkable water.
Hunger now increases slower.
There is now support for multiple groupings. Coal for example is now considered, "Carbons" and "Fuel-like".
You now learn past crafted items just by having the materials in your inventory. You no longer have to craft them for them to stay. Craft discovery rate has also been increased very slightly.
Read about all the changes via the Changelog:
http://www.unlok.ca/wayward-free-changelog/