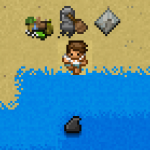 As anticipated, there has been some resistance to the idea of thirst being implemented in Wayward; however, I think most of this stems from the complication of distilling sea water into a drinkable form. It's definitely not a perfect system yet and I wanted to do a blog post to discuss the following:
Provide hints on stopping dehydration and staying alive in beta 1.4.
Announce some changes coming up in beta 1.5 and beyond.
Hydrate Yourself! (Spoiler Alert)
There's two new environmental items for water distillation including:
Stone Water Still
Large Rock x3
Sharpened Item
String
Pole-like
Waterskin
Fuel-like
With this one, you have to pour unpurified water into it (right click), light it on fire, and wait until it burns out to grab the now distilled water.
Solar Still
Sheet of Glass (Tongs, Refined Sand x3, Limestone Powder, Furnace)
Waterskin
With a solar still, you have the pour unpurified water into it, then wait a couple hundred turns. This will only work during the day. After it's done, you can grab the distilled water.
You can also use a direct recipe method:
A Purified Filled Waterskin
Flask (Clay Blow Pipe, Refined Sand x2, Limestone Powder, Furnace)
An Unpurified Filled Waterskin
Campfire
Using a flask, you can distill water directly from your craft menu.
There's some other thirst-reducing foods as well including:
A Pile of Snow
Pineapple
Nopal
Coconut
Planned Changes
Fresh water sources (from caves, oasis, and ponds). With fresh water, you can just boil to use (although not as pure as desalinated water). Perhaps later on, there will even be filtration as an option for fresh water to get even cleaner, healthier water.
There will be two water containers: Waterskins and Glass Bottles. In addition to this, both of them will be find-able via loot instead of just crafting.
Provide better descriptions and messages regarding the distilling and boiling process.
Make thirst and hunger reduce a bit slower still.
Most of this will appear in beta 1.5, so stay tuned!