Hey all,
Excuse the silence on the upcoming beta 2.3 as of late. We have decided to release these newsletters roughly in the middle of the wait for each major release for Wayward, instead of the original bi-monthly plan. We are still working hard on all the new planned changes, and even some yet-to-be-announced-ultra-mega-secret ones. More on that another time; let's start it off with the postmortem on beta 2.2.
Beta 2.2 Postmortem
With beta 2.2, we saw the biggest major patch to date with close to 150 changes and additions. It wasn't without its issues though, prompting a couple quick hotfixes and quicker patches after the release. We try to mitigate this as much as possible, but our resources are limited as always. We appreciate all the early access players coming along for the ride and helping us discover the bugs and help improve Wayward with suggestions.
We were pretty happy with the release overall, and players seemed to enjoy all the new goodies as well. There was a large focus on balance and new-player experience improvements in beta 2.2, as well as the subsequent minor patches. We would like to continue that trend with beta 2.3; however, we would maybe like to skew it more to the general improvements, bug fixes, and new additions side of things a bit more to keep the older players coming back for the major releases as well.
Beta 2.3 Media
We've already revealed some upcoming beta 2.3 features via social media, but here's a round-up of all the beta 2.3 media thus far:
Preview of tilling and gardening changes:
Preview of the new character customization options (with options to name your save and set your seed):
Preview of new fire options and balances. Showing ability to drop items on to fire sources and fire spreading caused by over-stoking a fire:
New Developer!
Another bit of news is we have recently gathered a new developer to add to our small team of part-time workers. Welcome, Mackenzie 'Aarilight' McClane to the team, a long standing community member. While we can't promise faster results, we can likely promise more results. Beta 2.3 is already at over 140 changes/additions.
Newsletter Subscription & Updates
If you would like to get these newsletters delivered via email, you can subscribe to our mailing list.
If you would like to keep up to date on all the news, reveals and other going-ons, check out our Facebook, Twitter, and Subreddit.
Modding Guide Overhaul
With the beta 2.2.2 release, we released a brand new modding documentation and guide, available here: https://waywardgame.github.io/
The guide itself is roughly the same as it was before, with some new information and frequently asked questions; however, the documentation is the star here. You can now browse through every module, enum, function, hook, and more.
We were pretty rough on modders throughout beta 2.2; changing many things throughout each of the minor patches. It's not intentional, but we like to provide the best tools for modification makers and sneak in everybody's requests before the longer wait for the major. Unfortunately, with beta 2.3's codebase going completely modular, beta 2.3 will bring more updates for modders to do to get their mods working. Apologies in advance, but we will try our best to document the updates required through the source code of the official mods.
Mod Showcase
Spawns
Amax is back at it again with "Spawns", a mod that will allow you to choose what will and will not spawn in your game, basically allow you to disable certain types of creatures (or all of them).
http://steamcommunity.com/sharedfiles/filedetails/?id=845234657
Weightless
thepicko unleashes another popular mod that allows you to disable weight in Wayward. Casual players rejoice!
http://steamcommunity.com/sharedfiles/filedetails/?id=783715246
Screenshot Showcase
We have seen some crazy Wayward screenshots lately. The amount of work and creativity Wayward players have shown is mind-boggling and always warms my heart. Here's a few of my recent favorites: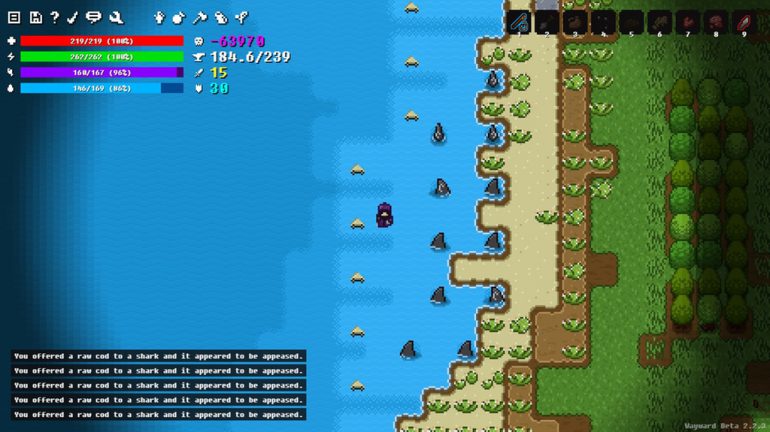 Chibale shows us their aberrant shark farming operation.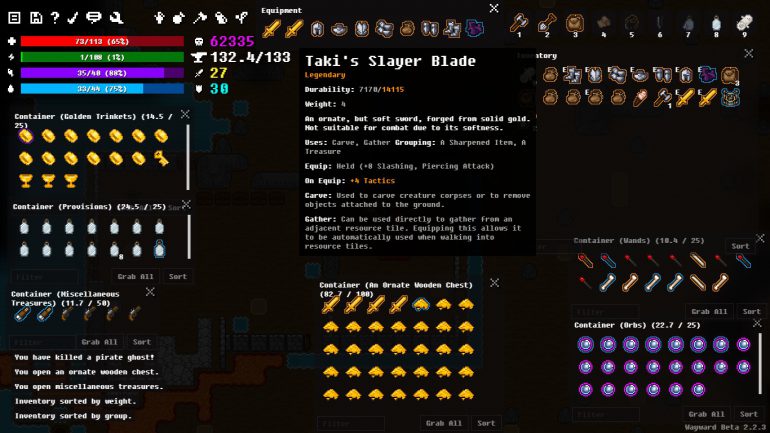 Takinshi shows off a very impressive end-game screenshot.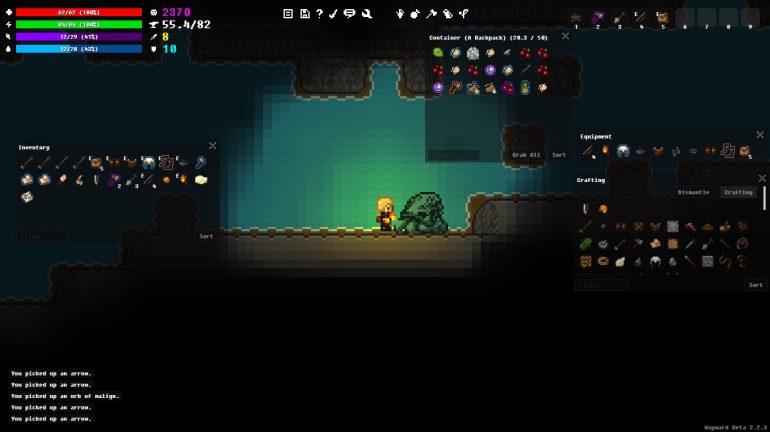 Royal Miku finally fell the cave kraken.
Check out all the latest screenshots: http://steamcommunity.com/app/379210/screenshots/?p=1&browsefilter=mostrecent
Steam Guide Showcase
There are not too many guides available for Wayward as of yet, but one recently posted one titled "Common causes of early death: better living through not dying", comes to us from community member, printedship: http://steamcommunity.com/sharedfiles/filedetails/?id=808330081
Some other guides of interest include (self-promotion, yay!):
Reporting Bugs & Debugging for Wayward: http://steamcommunity.com/sharedfiles/filedetails/?id=798938225
Changing Betas/Branches for Wayward: http://steamcommunity.com/sharedfiles/filedetails/?id=721479594
We would love your help in writing new guides for Wayward! I'll gladly provide any data you want from in-game if you ever need help on a certain topic. Just let me know!
Video Showcase
In the last little bit, we have seen two prominent let's plays series on Wayward. The first one brought to you by DFuxa, a predominately roguelike YouTuber. The series is still ongoing and is on the 7th episode.
The next showcase is for Chigocraft, a german YouTuber that plays many survival and crafting games.
Thank you to all that make Wayward videos! Appreciate you showing off the game!
And a another thanks to all of you coming on our Wayward journey with us.