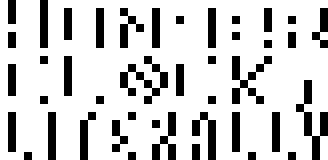 Hunger Clock, Literally is a fast-paced, Spelunky-like platformer where you must eat all the apples in the map. This game was made in 48 hours for the Ludum Dare 27 Compo using the "10 Seconds" theme.
Eating apples will reset your hunger clock back to 10 seconds. Additionally, destroying orange blocks can make you gain a second, while falling on spikes will make you lose a second. You have 3 different power-ups, each with different effects that are consumed on use. You can collect more power-ups by finding them in the orange blocks randomly.
Power-ups
Explosion (1): Destroy a radius of blocks around your character.
Jetpack (2): Causes you fly up for some time. You cannot stop this effect until it runs out.
Blocks (3): Spawn a series of blocks above you.
Controls
WASD, Arrow Keys, Spacebar, 1, 2, 3